2012 Vendee Globe : Initiatives Coeur sails with All Purpose gennaker
All Purpose sail loft works with Initiatives Coeur on Vendée Globe
17 December 2012
All Purpose is proud to accompany Tanguy de Lamotte since 10 ans from Mini 650 to IMOCA 60
All Purpose sails 2012 Vendée Globe with Tanguy de Lamotte
From Tanguy: "Merry Christmas to All Purpose team"
Tanguy De Lamotte, winner of the Rolex Fastnet Race in 2011, has been racing with All Purpose sails forever.
"Rémi Aubrun designed the sails for my first Mini and then he designed the sails for my Class40. Our collaboration is most constructive. We sail together, and we do a great deal of development work together. The sail shapes are studied further based on what I feel on the water. We understand each other, and it works well. We do a lot of work on fabric too, particularly with Trilam®. I strongly believe in this product, and I like the idea of being part of this small team involved in the development. The investment and the feedback work both ways.
Trilam® fabric has enabled me to win, and my experience in these races advances the development of this fabric."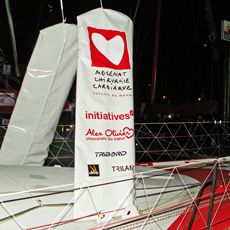 Go Tanguy, go !