Cruising: the secrets of making spinnakers
Spinnaker and gennaker for cruising sailboats
Our spinnakers are designed and manufactured in France
Combined with reinforcements, good assembly and finishing, these sails are reliable and will not let you down.


Spinnaker attachment points
It is easy to recognise the different attachment points on your spinnakers: we always use the same colour code.
Port sheet: red
Starboard sheet: green
Foot: white
Asymmetric spinnaker luff: black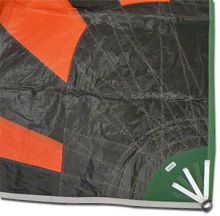 Clew
Over 35 feet, all our clews feature a stainless steel ring with webbing over approximately 90°.
On this photo, you can see the reinforcement radiating out from a starboard clew.
The alignment of the fabric matches the different load paths.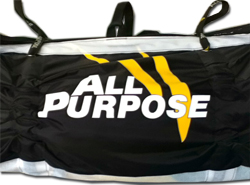 Spinnaker bag
All Purpose has made a conscious decision to manufacture everything in France, not just our sails, but also our spinnaker bags which have evolved to meet your needs.
There are different models available based on your sailing programme.