Fabrication details of Mini 650 mainsail
Close up on Mini 650 mainsail
It's the little details which make the difference and are appreciated by competitors… Close working relationship with the sailors and trials on the water enable to manufacture performing sails for mini 650.
Square top mainsails
The mainsail horn (1700 mm in series) is striped with high tenacity fibers.
This reinforcement ensures equal spreading of the load and remains much lighter than a conventional woven reinforcement. The weight gain in the top of the sail is consequent.
Double cable luff used in Mini 650 mainsail have proved their worth
The second rope protects the masts from battens' compression. Taking the reef is more easy.
Luff
Clew
Reefed clew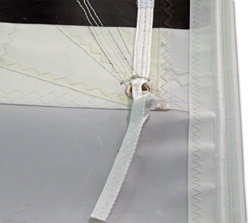 Inboard reef point