Offshore Racing Headsails assembly
High-tech manufacturing for optimal performance
The secrets of making high performing headsails for offshore racing.
All our sails are designed and manufactured in France.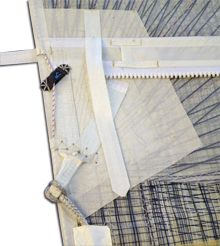 Reef clew
The reef clew webbing is prolonged by a spectra strop which is stowed in its pocket so that the reef point can be reached easily.
A webbing strop prevents the zip from opening when reefed.
The anodised aluminium cleat for the leech line is light and robust.
It is these little touches which enable us to provide smart solutions for offshore racing.
Tack
All tacks are equipped with snap shackles which can be released under load, fitted with a textile quick-release system.
The webbing radiates out to spread the loads.
The snap shackle is recessed to keep the foot of the sail as close to the deck as possible for aerodynamic efficiency (deck effect).

Short battens
All battens are removable.
Should one break, it is a simple matter to change it.
The batten end is held in place with a lashing. We prefer this solution to Velcro, which has a tendency to slip over time.
Luff
The luff soft shackle is a highly resistant, light 4 mm spectra shackle.
A strip of laminated cloth reinforces the area of horizontal load produced by the soft shackle.
The shackle is stitched to the sail with waxed twine to avoid losing it when manoeuvring.
Spectra is used for its longevity in a harsh environment, since these sails are permanently on deck, either aloft, or in their custom deck bag (see Canvas & Upholstery)